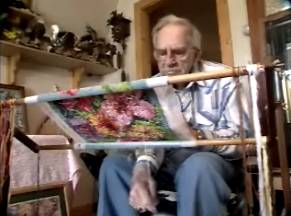 This segment from KX News about Elmer Jose is both interesting and inspirational.
In all, Elmer has created over 200 of these needlepoint works of art, some containing nearly 170,000 stitches. He doesn't usually take requests, but if you have something in mind, chances are, he's already done it.
Oh and by the way, "he does his work from a wheelchair, using one good eye, and limited use of one hand. If that's not incredible enough, he's also a cancer survivor."
Here is a transcript of the interview.