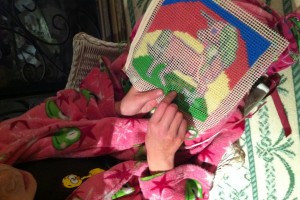 Dr. Lisa Dana bought a bunch of gifts for her siblings' kids, but was surprised which of them was the favorite. In her words:
The gifts we thought would be favorites were ignored after the first 5 minutes. [The top favorite gift was] a needlepoint kit for our 8 year old niece. The needlepoint was of a horse, and before the other kids had finished unwrapping, she was fireside asking our youngest for directions on how to get started.
It is a charming little design – see photo – and I could have predicted that it would be the winner. Easily.