Alphabets are a popular needlepoint theme, particularly for children's rooms. Often they are adorned with objects, one for each letter of the alphabet. In the needlepoint pictured above, the artist chose 26 members of the animal kingdom to accompany each glyph.
Other times, each letter varies in style or geometric pattern. See these beauties by Felicity Hall:
The letter stitchings look great as pillows, too. They are always wildly colorful and cheerful.
Have a look at some of Pepita's Alphabet Needlepoint canvas designs, located in the Kindergarten category. The canvas pictured below, called Alphabet Pictures, is unique in that it features only pictures of objects — one for each letter of the alphabet — but no alphabet!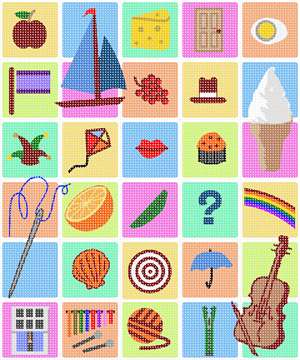 This is a really fun piece for young and inquisitive minds. They'll spend entire minutes trying to identify each object and its matching letter. Click on the image to buy it at our favorite online needlepoint canvas shop.