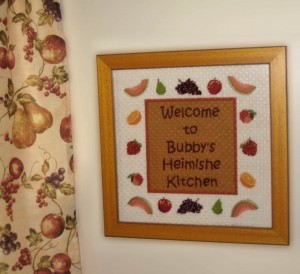 Received in today's email, a photo of an amazing piece stitched with a Pepita canvas, Frame Fruit. Our customer writes:
I wanted to share with you the results of my latest needlepoint adventure with Pepita!  Here is the completed customized canvas I ordered last winter.  It was a delight to stitch! You had suggested embellishments for the fruit, Renee, but I thought that would take all the fun out of the stitching challenge. So…I stitched the fruit first, and some of them required two or three tries to get it just right. Then I decided to do the whole background in scotch stitch.  Best of all – and I know you will appreciate this – I finished  the whole project using thread I already had in the house!!

I have attached two pictures, one showing my project where it hangs, right next to my fruit-decorated kitchen curtains.  How perfect is that?  All I need now is a visit from the grandchildren to complete the scene!
The text she stitched in the center reads "Welcome to Bubby's Heimishe Kitchen." The word "Heimishe" is a hard-to-translate Yiddish word, it's roughly equivalent to "cozy" and "familiar".