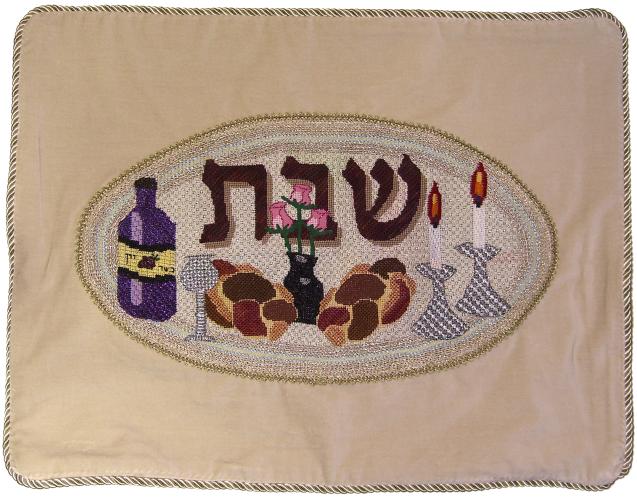 My customer Janet ordered Oval Challah Cover a few weeks ago with a stitch guide. I matched the threads to a fabric swatch of her dining room decor.  She is an experienced needlepoint stitcher and wants to accentuate her Shabbat table.  I stitched the challah cover oval a number of years ago.  It was the first Pepita challah cover design, and it enhances my Shabbat table each week.
Janet had an excellent question.  She was curious why I did not stitch the "sesame seeds" on the challahs.  I explained that some of my children have a severe sesame allergy, and I just didn't have the heart to stitch something they could not taste.  Janet loved my answer! She remarked that her daughter and grandchild also have sesame allergy, and she would not stitch them either.
We got into a discussion about food allergies, and I showed her the cookbook Simply Tempting, The Allergy Friendly Kosher Cookbook that I authored.  It contains over 300 egg free, milk free, nut free, and of course, sesame free recipes.   While the sesame seeds would look perfect stitched in french knots on the braided loaves, and my kids certainly don't have a DMC thread allergy (Thank G-d!), I just couldn't stitch those seeds.