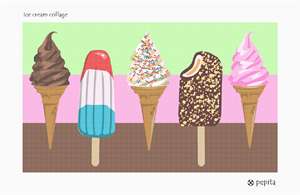 January 15 is National Strawberry Ice Cream Day! According to www.punchbowl.com:
The ice cream we know and love today evolved from ancient flavored ices. As early as 3000 BC, people in China served their guests sweet juices mixed with ice or snow.

While fruity ice cream flavors are still popular today, vanilla and chocolate are the clear favorites. According to a survey conducted by the International Ice Cream Association, strawberry is the third most popular ice cream flavor, favored by 5.3% of the population.
It's too cold in New York to eat ice cream, so we're celebrating instead by taking 25% off  ice cream and strawberry designs by Pepita for the day. Come on over and indulge! The sale runs from midnight of January 15th until the following midnight.