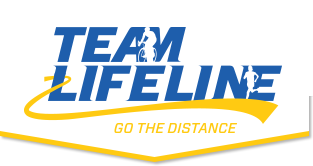 Congratulations to all the 425 runners and their families who joined Team Lifeline for the 2016 Miami Marathon. I was at the Eden Roc Resort for the festivities, and was honored to meet some of my customers.
My sister, Raizy, is the coordinator of this event, so I traveled to Miami and watched her work hard with dedication. Everyone complimented Raizy; she is the essence of the team. As I am currently not a runner (but I was so inspired that maybe I'll train to become one!), I spent some time doing needlepoint in the lobby, and passersby stopped to see my work. Since my business is online only, I don't get to meet my customers in person. But as I spoke to the guests and introduced myself, they knew me from Pepita. What a great feeling!
Team Lifeline raises money for Chai Lifeline, the international children's health support network. Chai Lifeline brings light and hope to children and their families through various services including counseling, hospital services, retreats, programs, and their well-known summer camps, Camp Simcha and Camp Simcha Special, all free of charge.
And to my sister Raizy, the entire immediate and extended family stand in awe of what you are accomplishing. Keep us proud!