The Scottish Diamond stitch is a medium-complexity stitch that is good for filling larger areas with an elegant, symmetrical pattern. I've created a diagram that illustrates the stitch below.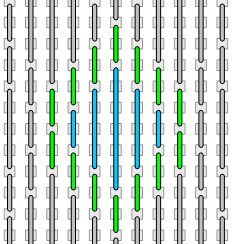 The Scottish Diamond stitch appears in Lucinda Ganderton's "Stitch Sampler" on page 123 (I am using the edition from 1999, but it is still on that page in the most current print). Here is what she writes:
Start at top left. Work five upright stitches in a diamond shape…Repeat to the end of the line leaving one space between each diamond (emphasis mine).
Following Lucinda's instructions, your diamonds will be tightly wrapped with a series of vertical stitches, but they won't criss-cross as you might expect.
Here are some illustrations to show you what I mean. Lucinda's stitch can be diagrammed as follows:Â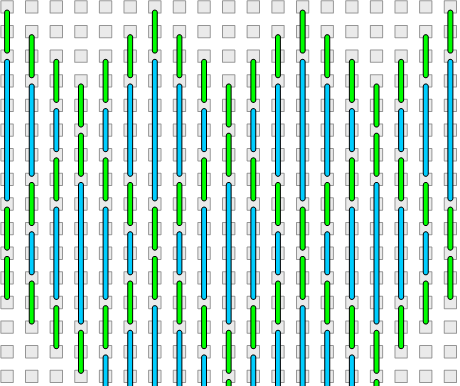 But if you desire a more symmetrical look, where the wrapping stitches criss-cross nicely, the stitch would look like this: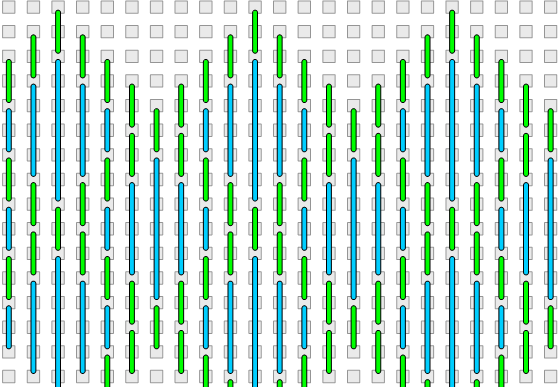 We can call this variant the "Scottish Diamond Criss Cross". (For all I know, there already is a stitch out there with this pattern, I just don't know of it. Does anybody out there know?) Here is a photo detail of the stitch using my variation, from Pepita's Baby Boy Sampler: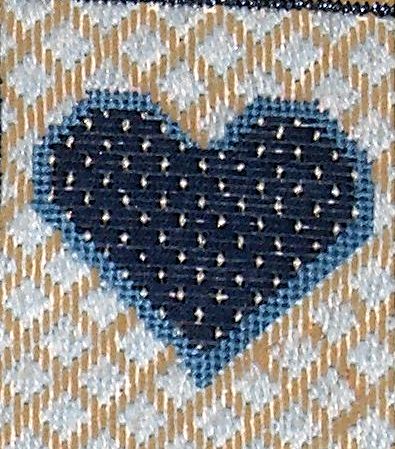 Instead of leaving 1 space between the diamonds, as per Lucinda's instructions, you need to leave 3 spaces between each diamond. Otherwise, the outlining stitch that wraps each diamond will not criss-cross properly. If you study the photo detail I put in before, you'll see what I mean.
Incidentally, I very much recommend Lucinda's book – her work is excellent and it is a valuable reference for every needlepointer.
P.S. Be sure to check out my tip for looking up stitches in Lucinda's book on Amazon.