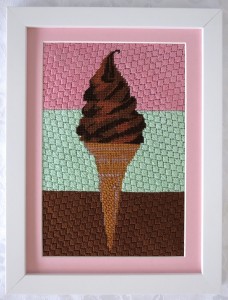 Ice cream is nearly synonymous with summer. It's like roasted marshmallows from the campfire and sun tan lotion – all filed in the same section of my mind. Needlepoint sits there too – in the part of my brain that smells chlorine, thinks swimming pool, hears the jingle of the ice cream truck, thinks summer.
My 17-year-old daughter stitched this piece in time for summer.  Actually, she stitched it while on the phone with her classmates studying together for her high school final exams in June.  The original canvas design sticks to the classic vanilla, chocolate and strawberry; but she substituted pistachio for vanilla to bring in more color. Interestingly, she has never tasted pistachio ice cream, because she is allergic to nuts, but she still likes the color. We carry quite a few needlepoint designs featuring ice cream along with other tantalizing desserts.
Jessica at The Frame Game in Monticello, NY, helped choose a frame.  She expertly blocked and framed the canvas.  I'm proud of my daughter that she actually finished stitching a canvas from beginning to end.  Her determination paid off.  Now, although summer has melted away as quickly as an ice cream on a sweltering day, she has a permanent souvenir of the cherished days of this wonderful season.