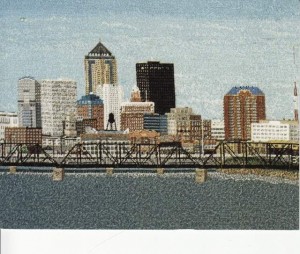 Two articles in the Des Moines Register this week featured the same needlework artist, Joyce O'Brien. Apparently a very patient and gifted stitcher, she created a depiction of city hall, complete with shiny gold rooftops. Follow the link to see it and read more about it.
In a separate article, the writer describes how it took Joyce over 600 hours to create this needlepoint landscape of the Des Moines skyline:
"It's a very tedious process," she said of the 3-by-2-foot picture, made from fine wool yarn. "It takes a long time, but I love to see the picture develop."
O'Brien is currently showing off her work in a show at the Ankeny Art Center. If you're in the area, definitely stop in for a look.